M5.6 CENTRAL ITALY on November 9th 2022 at 06:07 UTC
Last update: 10 November 2022 at 10:39 UTC
Earthquake details | Aftershocks locations
Send us pictures or videos | Epicenter location
Earthquake details
An earthquake of magnitude M5.6 hit Italy in the Adriatic Sea, at 63 km East of Rimini, on November 9th 2022 at 6h07 UTC (7h07 in local time). More information on the main shock is available here.
This earthquake has been felt in numerous cities at almost 400 km from the epicenter. However at the time of this report, no damage and no victims are reported.
Additional information can found:
Primilary report from INGV [link]

If you have experienced this earthquake, you are invited to answer the online questionnaire. Your testimony will be useful to update the Intensity map here below, where intensities correspond to the effects of the earthquake.
Aftershocks locations
| | |
| --- | --- |
| | |
| Magnitude distribution in time of seismic events within 80 km of the mainshock. | Location of the earthquake sequence in Central Italy 1 day after the mainshock. Only events with a magnitude greater than 2 are filtered. |
Maps of felt reports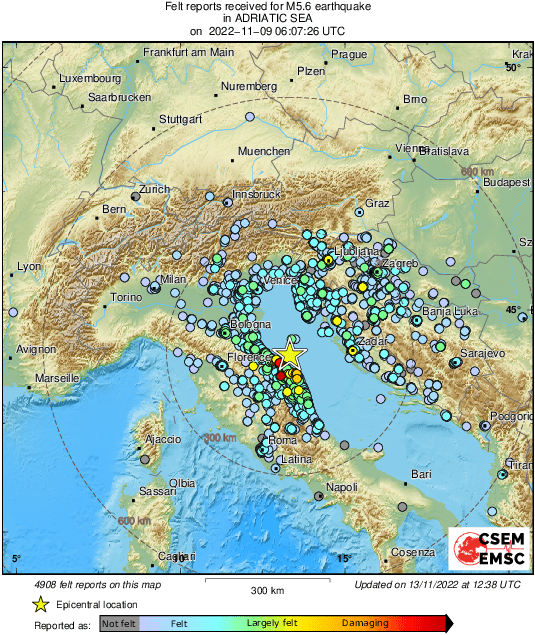 Map of felt reports collected for the mainshock.
Send us pictures or videos
You were on the spot and you have taken photos or videos of earthquake effects (on buildings, ground, landscape), please send us your files. Send them by mail or upload them directly from your computer. Just click on the link below :

Send us pictures or videos of the main shock effects
After validation your files will be displayed on this page.
Epicenter location
| | | |
| --- | --- | --- |
| | | |
| Main Shock Epicenter Location | Past Regional Seismicity as from the ISC catalogue (1960-2020) and EMSC Real Time catalogue (2021-today) | Moment Tensors Solution |